Characteristics
Wireless Positioning Unit

EPU-220

() dedicated transceiver.
With a PLC and CC-Link connection, Wireless Positioning Units enable up to 32 units to be used with simultaneous automated control.
Configuration of

EPC-200-CC

can be easily performed with a PC and dedicated software

EPU-COM

.

EPU-COM

is available free of charge. Please download from the NBK website.
(https://www.nbk1560.com/contact/positioning-unit-contents-form-software-dl/thanks/)
A PC connection USB cable (length: 1m) is provided.
Use a DIN rail foot to enable mounting to DIN rails with one touch.

*1
*1: If operating a Wireless Positioning Unit wirelessly, avoid installing the control panel inside a metal housing. This will degrade wireless performance.
CC-Link is a registered trademark of Mitsubishi Electric Corporation.
Material/Finish
EPC-200-CC
Main Body
Polyamide (Light Gray)
DIN Rail Foot
Steel
Trivalent Chromate Treatment
Only takes two minutes to understand!Wireless Positioning Units (EPU-200 EPC-200) Installation/Connection Method
Mounting
Hook the pawl at the top (②) of the transceiver to the top of the DIN rail (35 mm wide) (①).
Press the DIN rail foot (③) onto the DIN rail until it clicks.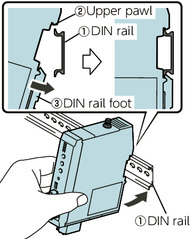 Removal
Use a flathead screwdriver or the like to pull down the DIN rail foot (①).
Lift and remove the transceiver. Or slide it on the DIN rail to remove it.
Performance
Power Source Voltage
24 VDC ±10% (External Power Supply)
5 VDC ±5% (USB Power Supply)
Current Consumption
30mA
Host Connection Method
PLC: CC-Link Ver.2.00

*1


PC: USB 2.0
Unit
Connection Method
Wireless
2.4GHz Band Wireless Communication
Wired
RS-485 (2-wire type)
Wireless Reach Distance
(Reference Value)
Indoors
60m
Outdoors
1200m
Maximum No. of Connected
Wireless Positioning Units
32 Units
Operating
Environment
Temperature
-5°C to 55°C (no freezing)
Humidity
20% RH to 85% RH (no condensation)
Precautions for Use
For details on the connection and setting methods, please refer to the "
Instruction Manual
". Be sure to read the "Safety Precautions" and "Precautions on Radio Wave and EMC" in the
Instruction Manual
before use.
The Instruction Manual can be
downloaded
from the NBK website.