Laser engraving service
Service Introduction Video
Service Details
Various marks and letters are laser-engraved on NBK products.
OPEN, CLOSE and arrows, etc... A service to make NBK products even more usable in terms of functions.
They can be engraved on materials such as stainless steel, aluminum and plastic.
Color development varies depending on materials. For details, please feel free to contact our customer service.



Please note.
The color generated may differ depending on the material. Please contact our customer service for details.
The engraving depth will be adjusted at our discretion.
The engraving position may deviate slightly in some cases.
Engraving is possible under the following conditions.
Maximum engraving size :90 mm x 90 mm
Engraving surface top/bottom height difference:Within 4 mm
Applicable Products
Target products are displayed with compatibility and fees at the bottom of each product page.
How to use the service
For Standard Designs
Please inform our Customer Service of the NBK product part number to engrave and the engraving data file by e-mail.
Standard designs for engraving and NBK product CAD data can be downloaded from the NBK website. Please use them for creation of data files.

Acceptable file formats: JPG, BMP and DXF

Standard design download [584KB]
CAD data・Library

The dedicated part number of the laser engraving service product with a serial number is provided to you by e-mail. Please indicate the dedicated part number to place an order.

For Non-Standard Designs
Engraving of non-standard designs is also supported.
The order process in this case is shown below.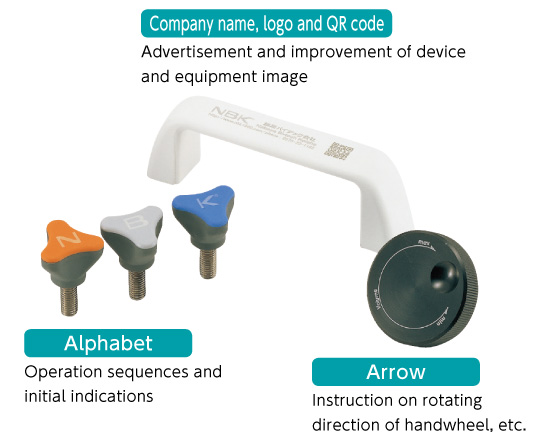 Contact our customer service with a data file containing the NBK product name and content to be engraved.
● Acceptable file formats*1:JPG・BMP・DXF


*1: Design data in formats other than the acceptable file formats, such as handwriting or fax, will be charged a separate design fee.

We will submit a prototype estimate.
After receiving an order using the part number in the prototype quotation, we will prepare the prototype.
After confirmation of the prototype, if there is no problem, we will submit a quotation for mass production.
From here on, order with the part number in the quotation for mass production.
Part number specification
Please indicate the dedicated part number for the laser engraving service.