Characteristics
With a PC and USB connection enable wireless operation of Wireless Positioning Units.
Simultaneous automated operation of up to 32 Wireless Positioning Units is possible.
A USB cable for PC connection (length: 50cm) is provided.
Material/Finish
EPC-100
Main Body
A6063
Anodized
Performance
Power Source Voltage
5V + 5% (USB power supply)
Wireless Communication
2.4GHz Band Wireless Communication
Wireless Reach Distance
(Reference Value)
Indoors
60m
Outdoors
1200m
Maximum No. of Connected Wireless Positioning Units
32 Units
Only takes two minutes to understand!Wireless Positioning Units Installation/Connection Method
Precautions for Use
Be sure to read the Instruction Manual before use to ensure safe and correct usage.

Related Products
Wireless Positioning Units can be used in combination with
EPC-100
.
Standard Type
EPU-100
Dustproof/Waterproof/Thin Type
EPU-200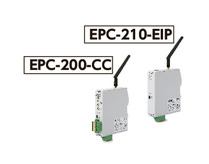 Transceivers
EPC-200-CC
can be used to control Wireless Positioning Units
EPU-100
EPU-200
for connection with a PLC.
EPC-200-CC