Specs/CAD
*1: For mounting to the DFSN-H device, use the hex socket head cap screws. Mounting bolts are not supplied.
Material/Finish
DFSN-H
Hinge
SPCC
Electrostatic Coating (black)
Angle Retention Nut
S45C
Trivalent Chromate Treatment
D-cut Bolt
SUS304
Workpiece Fixing Nut
SUS304
Cover Cap
Polyethylene (Black)
Collar
SPCC
Trivalent Chromate Treatment
Characteristics
You can adjust the angle of the workpiece mounted to the D-cut bolt.
Tightening the angle retention nut will retain the angle after adjustment.
You can combine the display mounting system

DFR

(DFR) with the D-cut bolt, to mount the display or various workpieces.
Application
Machine tool / Medical equipment / FPD production device / Semiconductor manufacturing device / Packing machine / Food machinery

Precautions for Use
Even when the angle retention nut is in a loosened state, a certain specified torque (0.1N・m or higher) is necessary for angle adjustment. When performing angle adjustment, be careful to avoid applying an excessive load to the load item.
Do not try to forcibly adjust the angle when the angle retention nut is in a tightened state. This will wear down the retention part, reducing its retention force.
Relationship between angle retention nut tightening torque and retention torque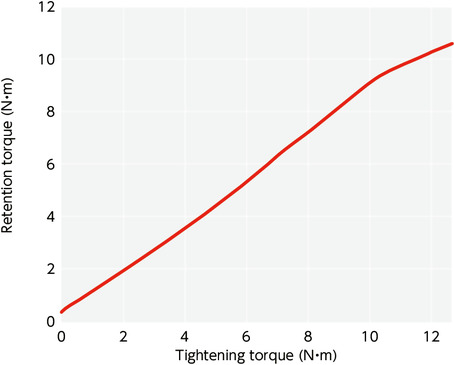 The retention torques are test values. They are not guaranteed values.
Mounting method
Mount the workpiece to a D-cut bolt, and fix it in place with a workpiece fixing nut.
For mounting to the device, use a hex head mounting bolt.