Hints for Correctly Using NBK Products
The video is an example using CUAB(CUAB). You can perform the same operation using this product.
Specs/CAD
*1: Static load at which CUSH-2B retains the slotted steel.
Material/Finish
CUSH-2B
Bracket Body
Zinc Die Cast
Chrome Plating (Matte)
Push Button
Polyacetal (Orange)
Characteristics
Brackets for convenient positioning on slotted steel.
Suited to slide mechanisms using slotted holes.
Push the push button to unlock the lock and release the push button to fix it in position.
Operating principle


CUSH-2B

internal rollers push the slotted steel against the attachment to fix it.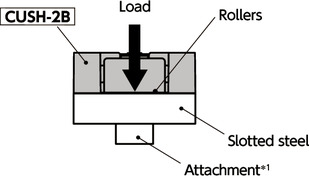 *1: Attachment is not supplied.
Can retain up to 100 N.
Push button press count resistance is 10,000 times (reference value).
Precautions for Use
Mount the

CUSH-2B

bottom on the attachment for use. The slotted steel will not be retained if used without mounting on the attachment.
If only one side of the push button is pressed after locking, the lock in the direction the push button is pressed will release.

CUSH-2B

is a product that uses friction fastening. In cases where oil, etc. adhered to the slotted steel causes the friction coefficient to decrease or if impact loads or vibrations occur, the maximum retention force may decrease.
The surface may be scratched depending on the material and surface treatment of the slotted steel.
If excessive loads are applied, the slotted steel may be scratched or

CUSH-2B

may be damaged.
If excessive loads are applied and the push button is locked, operate the push button after loosening the bolts securing

CUSH-2B

.

CUSH-2B

may be damaged if operation is forced.
Usage Example
The slotted steel can be fixed in the desired position.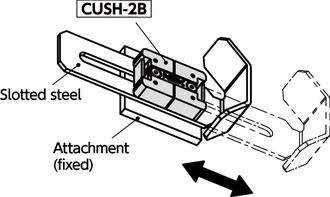 The use of a mechanism to fix the slotted steel and move
CUSH-2B
and the attachment to the desired position for fixing is also possible.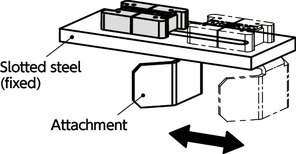 Usage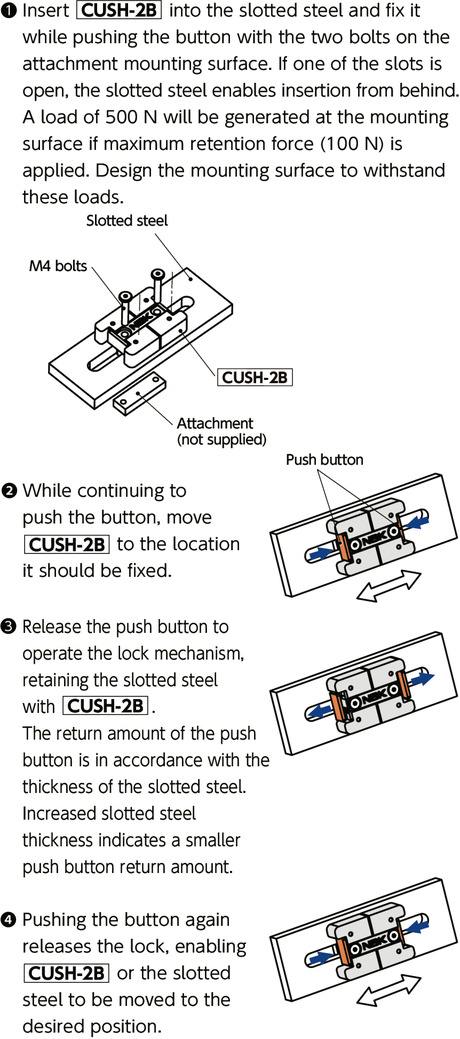 Applicable Slotted Steel Shape Example

Attachment Shape Example (Reference)
Prepare in accordance with the application.
When the attachment is a thin plate, fix with nuts.