Specs/CAD
Part Number
A
B
W
L1
L
Max. Load Weight
(kg)
Mass
(g)
Price
(USD)
CAD
Download
Add to Cart
DFK-75-AA-40
75
40
90
17
87
10
900
101.23
CAD
Cart
DFK-100-AA-40
100
40
115
17
87
10
1000
102.76
CAD
Cart
● Hex socket low head bolts (M8 × 16 mm) are supplied.
Structure
Material/Finish
DFK-AF
DFK-AA/DFK-PB
Plate for display
SPHC
Cation Painting
Ball Case
A6063
Alumite Treatment
Ball
S45C
Trivalent Chromate Treatment
Fixing Hex Socket Head Cap Screw
(M5 x 16 mm)
SCM435
Ferrosoferric Oxide Film
Fixing Plate
SS400
Electrostatic Coating
-
Bracket
-
A6063
Alumite Treatment
Characteristics
The display can be tilted by ±15° to any direction. The display can also be rotated.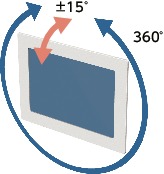 By tightening the fixing hex socket head cap screw, securely retain the angle after adjustment.
For counterpart, three types of Mounting System for Display are available.
For aluminum frame / For wall panel and sheet metal ----DFK-

AF


For aluminum frame end mounting ----DFK-

AA


For round pipe ----DFK-

PB
Application
Machine tool / Medical equipment / FPD production device / Semiconductor manufacturing device / Packing machine / Food machinery