Hints for Correctly Using NBK Products
The video is an example using SSC(SSC). You can perform the same operation using this product.
Specs/CAD
Part Number
M (Coarse)
Nominal of Thread
Pitch
L
Lm
D1
L1
dc
Applicable Wrench Type
Applicable Bit Type
Hexalobular
Socket No.
Qty per Pack
Mass
(g)
Price
(USD)
CAD
Download
Standard
Bit
Driver
SSC-SRBS-M5-16
M5
0.8
16
6
9.5
2.75
3.9
SRX-25
SRXB-25
SRD-6.35
25
1
2.8
2.94
CAD
Cart
Nabeya Bi-tech Kaisha
Customer Service
Please enter questions about customization and other product-related inquiries here.
Find the inquiry form here
Related Services
Material/Finish
| | SSC-SRBS |
| --- | --- |
| Main Body | Equivalent to SUS304 |
| Strength Class | Equivalent to A2-50 |
Application
Fixing of protection cover and cover for inspection / CE marking
Machine tool / Food machinery / and Electronic device

Characteristics
Prevents fall-off and loss of the screw. They are intended to fix protective and inspection covers that are frequently installed and removed.
Tamper resistant screw type.
For CE Marking compatibility. ⇒Use the NBK Captive Screw Series to be comply with CE
Install and remove with

SRX

Dedicated Wrench or

SRXB

Dedicated Bit and

SRD

Dedicated Magnetic Screwdriver together.
We also produce captive screws of special specifications, e.g. dimensions, shapes, materials and surface treatment. Please contact our customer service.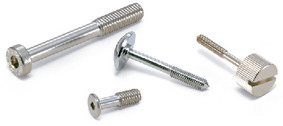 Precautions for Use
Screw hole inner diameter on the cover side shall be at least the dc dimension.
The cover thickness should be 0.8 mm or above.
Mounting Example
Machine a screw hole on the cover and let through the threaded part of
SSC-SRBS
. Threaded part of
SSC-SRBS
is still engaged with the screw hole on the cover even after the screw is removed from the frame, so
SSC-SRBS
never fall out of the cover.