Specs/CAD
Nabeya Bi-tech Kaisha
Customer Service
Please enter questions about customization and other product-related inquiries here.
Find the inquiry form here
Related Services
Application
Vacuum devices / Vacuum chambers / FPD production equipment / Semiconductor devices / Electron microscopes

Characteristics
The ventilation hole easily releases gas trapped in the screw holes of equipment and machines, and supports vacuum drawing of vacuum devices.
Hex socket head cap screw with ventilation hole - high intensity stainless steel

SNSLG

(SNSLG).
Tensile strength 1000 N/mm

2

, 0.2% proof load 800 N/mm

2

The proof load is approximately 1.8 times that of general stainless steel hex socket head cap screws. Therefore, smaller screw diameters and reduced quantities are available to save space and reduce weight.
Made of SUS316L. It has excellent corrosion resistance.
Non-magnetic.
Cleanroom wash/cleanroom packing provided. ⇒Cleanroom Wash / Cleanroom Packing Service
Usage Example
Gas trapped at the bottom of a screw hole is released through
SVSLG
, and gas trapped in a drilled hole is released through
SWAS-VF
(
SWAS-VF
SWAS-VF-PC
).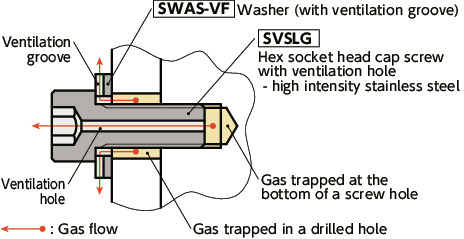 Mechanical Properties
SUS316L

*1

Tensile Strength (N/mm

2

)
1000
0.2% Proof Load (N/mm

2

)
800
Elongation(mm)
0.3d
Related Products
For ventilation of drilled hole, please use
SWAS-VF
.
SWAS-VF
SWAS-VF-PC