Structure
Set Screw Type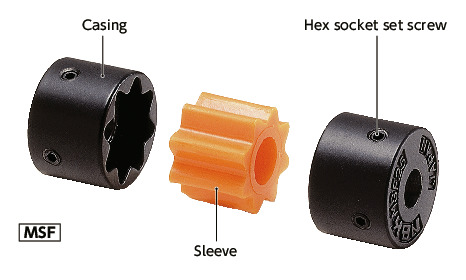 Material/Finish
MSF-16-MSF-25
MSF-32
Casing
ZDC2
Cathodic Electrodeposition Coating
SMF4040
Steam Treatment
Sleeve
Polyurethane
Polyurethane
Hex Socket Set Screw
SCM435
Ferrosoferric Oxide Film (Black)
SCM435
Ferrosoferric Oxide Film (Black)
Characteristics
Recommended Applicable Motor
| | MSF |
| --- | --- |
| Servomotor | ● |
| Stepping Motor | ● |
| General-purpose Motor | ◎ |
| | MSF |
| --- | --- |
| Allowable Misalignment | ○ |
| Vibration Absorption | ○ |
| Electrical Insulation | ◎ |
| Allowable Operating Temperature | -20℃ to 60℃ |
The engagement of serration transmits torque. This is a simple structure flexible coupling.
Excellent flexibility. Its max. lateral misalignment and max. angular misalignment are large, absorbing torsional vibration.
Application
Mixer / Gaming device

Selection
Selection Based on Shaft Diameter and Rated Torque
The area bounded by the shaft diameter and rated torque indicates the selection size.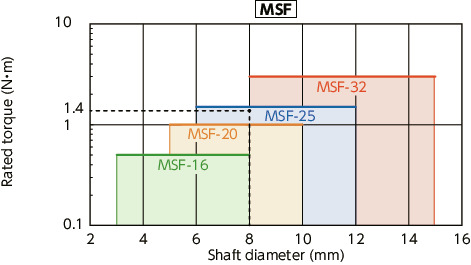 Selection Example
In case of selected parameters of shaft diameter of φ 8 and load torque of 1.4 N•m, the selection size is
MSF-25
.
Ambient Temperature / Temperature Correction Factor
| Ambient Temperature | Temperature Correction Factor |
| --- | --- |
| -20℃ to 30℃ | 1.00 |
| 30℃ to 40℃ | 0.80 |
| 40℃ to 60℃ | 0.70 |