Specs/CAD
Part Number
Max. Bore Diameter
(mm)
Rated
Torque*1
(N・m)Rated
Torque*1
(lbf in.)
Max. Rotational Frequency
(min-1)
Moment of
Inertia
(kg・m2)*2Moment of
Inertia
(oz. in.2)*2
Static
Torsional
Stiffness
(N・m/rad)Static
Torsional
Stiffness
(lbf in./deg)
Max. Lateral Misalignment
(mm)Max. Lateral Misalignment
(in.)
Max. Angular
Misalignment
(°)
Max. Axial
Misalignment
(mm)Max. Axial
Misalignment
(in.)
Mass
(g) *2Mass
(oz) *2
MSX-24C-6.35-6.35
10

1.5

13.27
26000
1.8×10

-6

0.098

790

122.02

0.05

0.002
0.5

±0.1

±0.004

23

0.81
*1: Correction of rated torque due to load fluctuation is not required. For more detailed information, please refer to Selection Guidelines.
*2: These are values with max. bore diameter.
Material/Finish
MSX-C
Main Body
A7075
Anodized
Hex Socket Set Screw
SCM435
Ferrosoferric Oxide Film (Black)
Hex Socket Head Cap Screw
SCM435
Ferrosoferric Oxide Film (Black)
Characteristics
Recommended Applicable Motor
| | MSX |
| --- | --- |
| Servomotor | ◎ |
| Stepping Motor | ◎ |
| General-purpose Motor | ● |
| | MSX |
| --- | --- |
| Zero Backlash | ◎ |
| High Torque | ○ |
| High Torsional Stiffness | ◎ |
This is a metal spring coupling with single-piece construction. A slit is inserted into a cylindrical material.
It has an extremely high torsional stiffness and low moment of inertia.
Extra super duralumin (A7075) featuring the highest strength among aluminum alloy is adopted.
A plate spring formed by a slit allows eccentricity, angular misalignment, and end-play to be accepted.
Application
Actuator / High precision XY stage / Index table

Precautions for Use
In case of mounting on D-cut shaft, be careful about the position of the D-cut surface of the shaft. ⇒Mounting and Maintenance
There are sizes where the hex socket head bolt exceeds the outer diameter of the coupling and the rotating diameter is larger than the outer diameter. Please be careful of the interference of coupling. Rotation Diameter
Selection
Selection Based on Shaft Diameter and Rated Torque
The area bounded by the shaft diameter and rated torque indicates the selection size.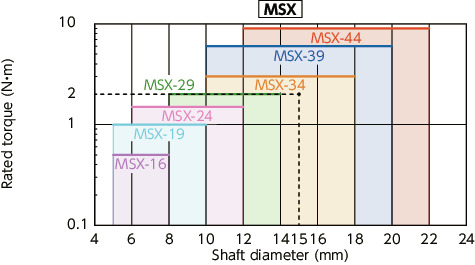 Selection Example
In case of selected parameters of shaft diameter of φ 15 and load torque of 2 N•m, the selected size is
MSX-34
or
MSX-34C
.
Selection Based on the Rated Output of the Servomotor
Rated Output
(W)
Servomotor Specifications

*1

Selection Size
Diameter of Motor Shaft
(mm)
Rated Torque
(N・m)
Instantaneous Max. Torque
(N・m)
MSX
MSX-C
Set Screw Type
Clamping Type
10
5 - 6
0.032
0.096
MSX-16
MSX-16C
20
5 - 6
0.064
0.19
MSX-16
MSX-16C
30
5 - 7
0.096
0.29
MSX-19
MSX-19C
50
6 - 8
0.16
0.48
MSX-19
MSX-19C
100
8
0.32
0.95
MSX-19
MSX-19C
200
9 - 14
0.64
1.9
MSX-29
MSX-34C
400
14
1.3
3.8
MSX-39
MSX-39C
750
16 - 19
2.4
7.2
MSX-44
MSX-44C
Eccentric Reaction Force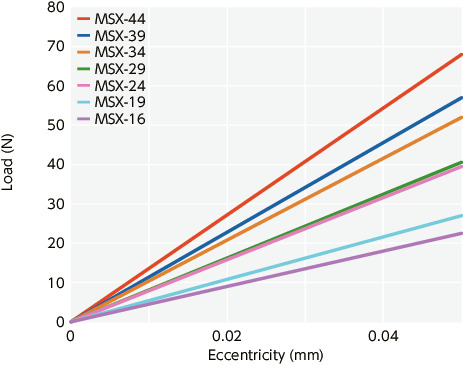 Thrust reaction force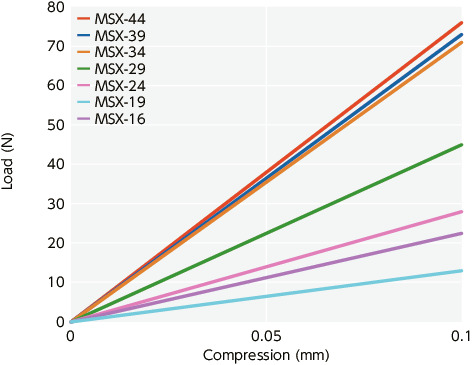 Change in static torsional stiffness due to temperature
This is a value under the condition where the static torsional stiffness at 20°C is 100%.
The change of
MSX
in torsional stiffness due to temperature is small and the change in responsiveness is extremely small. If the unit is used under higher temperature, be careful about misalignment due to elongation or deflection of the shaft associated with thermal expansion.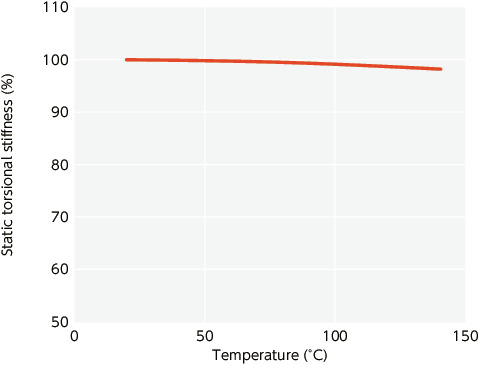 Static torsional stiffness comparison (slit-type)
MSX
have high static torsional stiffness and responsiveness. Optimal for high-speed and precision positioning for servomotors, etc.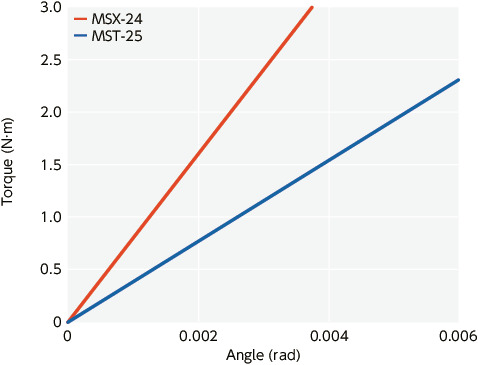 Related Products
The slit-type coupling
MSXP
in PEEK material can be used in an environment or cleanroom where heat and chemical resistance are required, such as FPD and semiconductor equipment.