Specs/CAD
Material/Finish
SKABA
Main Body
Brass
Cathodic Electrodeposition Coating
Shaft Part
Alloy Steel
Zinc Phosphate Film
Magnet
Alnico
Application
Combination of Short Bit and Tools with Deep Bit Insertion Depth / Tool Shaft Part Extension

Characteristics
This is an adapter for mounting a short bit to a torque screwdriver or electric screwdriver with a deep bit insertion depth.
The bit is held in place with a magnet, enabling it to be smoothly mounted/removed.
The shaft part of the tool can be extended by mounting

SKABA

, making it effective for mounting/removing screws in deep areas as well.
Usage Example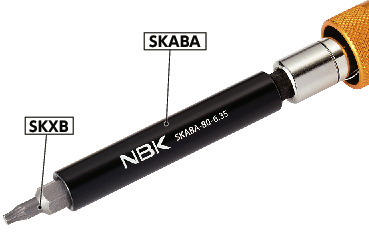 Precautions for Use
When mounting to power tools such as an electric screwdriver for use, be sure to mount/remove the bit with the power off.
Do not use in locations exposed to live wires, as it is made of metal.
Do not use for any applications other than for turning screws.