Specs/CAD
Part Number
D
D1
D2
L
s
L1
L2
L3
Db
d
Load (N)
Min./Max.
Qty per Pack
Mass
(g)
Price
(USD)
CAD
Download
Standard
BRPIN-7-N
7
9
7
7.5
1.5
1
7.5
1
4.76
1.5
0.1 / 2
1
0.49
13.21
CAD
Cart
BRPIN-9-N
9
11
8.4
10
1.7
1
7
1
5.56
2.5
0.2 / 4
1
0.92
13.21
CAD
Cart
BRPIN-13-N
13
15
12.4
15
2.8
1
7
1.2
8.73
3
0.3 / 7
1
2.7
15.49
CAD
Cart
BRPIN-15-N
15
17
14.7
16.5
3.5
1
8.5
1.5
10.32
3.5
0.3 / 11
1
3.9
16.39
CAD
Cart
BRPIN-20-N
20
22
19.4
22.5
5.2
1.5
10.5
1.5
15.88
5.3
0.3 / 14
1
9.3
18.97
CAD
Cart
BRPIN-24-N
24
26
23.4
29
6.6
1.5
13.5
1.5
19.05
6.4
0.3 / 21
1
17
21.72
CAD
Cart
Material/Finish
| | BRPIN-N |
| --- | --- |
| Main Body | Polyacetal/White |
| Main Ball | Polyacetal/White |
| Sub Ball | SUS440C(Hardness 55HRC or Higher) |
| Spacer | Polyacetal/White |
| Spring | SUS631J1 |
Application
Conveyance, fixing and locating work, torque limiting, and indexing

Characteristics
These are insert type ball rollers with spring plunger function.
Because the body section is inserted, the height can be reduced.
Use an adhesive to secure these rollers.
Their internal springs receive loads evenly even when the load is unbalanced.
These rollers can also be used as a general spring plunger with ball for fixing and locating workpiece. The smooth rotation of the ball reduces friction between the main ball and receiving side.
Both the body and main ball are polyacetal. Workpiece is not damaged.
These ball rollers have drain holes and are intended for food production lines and other applications that require cleaning.
Usage Example
When there is unbalanced weight.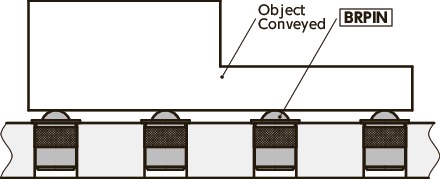 Precautions for Use
These are insert type ball rollers. Use a clearance fit when fitting with the attachment hole.